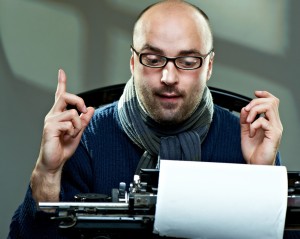 Here on Gameleon we get a lot of requests asking how people become freelance games journalists. So – along with our training days – we thought it about time we brought together some thoughts. This is the second in what will be a series of articles about how to be a freelance games journalist. You can read the first part here.
Part #2: Preparation
by Kirsten Kearney
The days of getting a commission based on one piece of example writing have all but gone. Creating and maintaining your own blog is so easy that any editor would likely question why you don't have one when pitching for work.
Starting your own blog has a threefold purpose:
1. An online portfolio of your skill and experience as a writer.
Any editor will be able to click a link and see a variety of your work, brought to life with images.
2. A place to practice writing.
Whether you're at school, university, have a full time job or three kids to look after you should always make time regularly write. Practice by reviewing games you have played, previewing titles you have played a demo of, and write up thoughts and feelings on the industry as opinion piece blogs.
3. See your work published and in the public domain.
Don't hide your work away in a corner of the internet. Tell your friends about it. Send links to your peers and ask for feedback both good and bad.
Besides being a showcase for your work make sure that your blog has an "About Me" page or section. This way potential employers can quickly get an idea of who you are and an idea of your skills. Hilariously funny and silly biogs are an indulgence of highly successful, already known and established writers. Keep it simple and informative!
Using social media to promote your writing can help you gain attention from the industry and expose you to a larger audience. You can use Facebook and Twitter to let people know when you've written something new and give them a quick link to it.
For more experience it's worth looking for places on established games community blog sites. They don't pay their writers but can offer support, the chance to be a part of a team and possible access to media events. Check out the independent sites on The Games Tribe for leads.
Part #3 of this series will be along in a few days.
Kirsten Kearney (@KittAlpha) has been a journalist for more that 14 years, the past eight writing about video games. She holds two Guinness World Records for longest marathon in the FPS and driving genres and is currently editor of GMA-nominated Ready-Up. And, yes, she used to be a 'Frag Doll'.