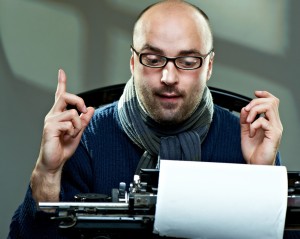 Here on Gameleon we're dedicated to improving the state of games journalism. Whether that is starting discussions about review scores, supporting the Games Media Awards or profiling writers and industry folk, we're about sharing knowledge and information. We get a lot of requests asking how people become freelance games journalists. So – along with our training days – we thought it about time we brought together some thoughts. So this is just the first in what will be a series of articles about how to be a freelance games journalist.
Part #1: Introduction
Words: Kirsten Kearney
Carving out a career as a freelance games journalist is not easy. There are many barriers to entry and obstacles in the way. Print media isn't the unshakable giant it used to be. Not only can gamers get their news and views quicker online but declining advertising in the current financial climate means that magazines are on tighter and tighter budgets. Why farm out reviews to you when there are staff writers in the office willing to take on more and more work just to keep their jobs? And what of the staff who have lost their jobs? They are likely to get any freelance that is going before a newcomer to the industry.
It's not all bad news though. The rise of online media has opened up a plethora of opportunities. In fact there's never been a better time for those with plenty of talent but little experience to get their work published.
There are things you need to have before even beginning to undertake a career as a freelance games journalist. The main one is, of course, an unbridled passion for games. Your passion should extend not just to playing them but to finding out everything you can about who makes them, how they're made and the whole history of the medium. The other essential requirement is a love of writing. It can't just be a way to get to play games for a living or to get free games. That wont be enough motivation to overcome the difficulties of building a career as a journalist. You must genuinely love writing and be willing to work hard at improving your skills and be willing to take instruction and criticism from an editor.
Here are a few words of inspiration for you from some of the greatest exponents of our craft. We'd love you to add your own in the comments – especially if you're a seasoned pro.
"Believe in what you write. Enjoy what you do – and if you don't, find a way – find an angle. And if you can't, do something else instead. Be interested and be sociable. Listen more than talk. Be innocent like a reader. Know your subject. Research thoroughly. Write what you want to read. Write for yourself or someone you know well. Be objective. Treat everyone the same, whether you revere or revile them, they are all just like you. Genius isn't infallible. Look for the bad in the good and vice versa." Gary Penn – Editor Zzap!64, The One, Amiga Power, PC Format (@GaryPenn)
"Get good. Nothing else matters. Always remember that there's a million ways to be "good". It's about finding the one that's you. Which takes time, so get on with it. Worth stressing: if you're good enough, you'll be hired pretty much immediately. When I was on PC Gamer, I hired every genuinely first-class writer who crossed my desk. Just be good. I like people making me feel obsolete." Kieron Gillen – Amiga Power, PC Gamer, Eurogamer, Wired, Rock, Paper, Shotgun, The Guardian (@kierongillen)
"I reject the idea that you can't be good and fast. If you're going to be a professional journalist there's a good chance you're going to have to turn copy around to tight deadlines without letting the quality slip. So man up. Personally, I always prided myself on being quick. Sitting there like the tortured artist while you try to come up with the mots justes for your Need For Speed preview is only going to piss the subs off. 'Make it brilliant but make it now' is probably what I'd say." Tim Clark – Editor in Chief (Games) Future Publishing (@timothydclark)
Part #2 of this series will be along in a few days.
Kirsten Kearney (@KittAlpha) has been a journalist for more that 14 years, the past eight writing about video games. She holds two Guinness World Records for longest marathon in the FPS and driving genres and is currently editor of GMA-nominated Ready-Up. And, yes, she used to be a 'Frag Doll'.