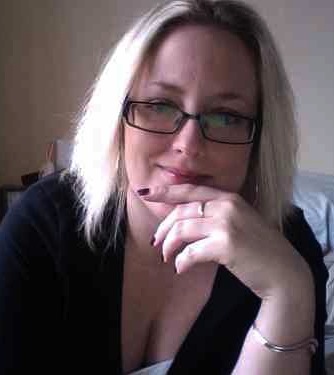 What do you do now and who do you work for?
I'm presently Editor-in-Chief of my own small-but-perfectly-formed indie gaming site, GGS Gamer, with several contracts and freelance gigs peppered elsewhere, too. I also freelance for Ginx TV, where I review games, write scripts and capture my (often abysmal) game-play footage for TV.
Tell us how you become a games journalist in the first place.
To be honest, it all happened rather recently and comparatively late in life. I've always wanted to write professionally – originally in the chick-flick magazine industry – but a six month placement at a magazine-that-will-remain-nameless when I was 21 almost destroyed me. (Have you ever seen The Devil Wears Prada? IT IS EXACTLY LIKE THAT.) I realised I wasn't built for that kind of brutal environment, quit, changed direction, and spent the best part of ten years climbing the ladder in the education sector as a specialist in disability and equality law. I still wrote; in the background I was trying to write a novel in-between research papers. But it was only in 2008 – after a chance invite out of the blue – that I first tentatively considered writing about video games.
Looking back now I can see what a ridiculously insane stroke of luck this was, but it started when I was invited out to San Francisco by EA (Yeah. Really). I've run a Silent Hill fansite since 2002, and – looking to stir up interest in their then new survival horror IP, Dead Space – EA invited me and a handful of other digital publications to come play it for ourselves. It was here, after meeting other writers, that I realised that all of the excuses that had been holding me back – my age, my gender, my experience, my industry knowledge – were bullshit. I came home, picked up a writing job at Aeropause.com, and – 18 months after that – branched out on my own and set up GGS. Over the next year I worked my arse off to build up my experience, my portfolio and my contacts, and eventually hit game journo Nirvana – actually being paid to write – in 2010.
What's the best or most memorable job or assignment you've had since then?
It's impossible to pick the best; I don't care how long I do this or what anyone else says, I'll never tire of previews or launch events. Along with the freebies of course, it's one of the best things about this job, and – as the game journo industry in the UK is surprisingly small – these days I'm lucky enough to usually be in the company of other writers I'm blessed to call friends. But the most memorable was probably the Golden Joystick Awards last year. I was invited to report on the event as one of several "Digital Media" attendees and, without doubt, that night was pivotal in my career.
It's probably fair to say that at that time, I was essentially still just playing at being a video games writer. But my contact list exploded that night, and I won my first prize for my subsequent editorial – a customised Golden Joysticks Xbox 360 Slim. Now, if I'm ever having a bad day and/or think I'll never be commissioned again, I look at that machine and promptly shut myself up.
And the worst one?
The aforementioned EA event in San Francisco, probably. I TANKED the gameplay. The game completely terrified me, and, trying to get through Chapter 6 – even on average difficulty – was simply too much. Each time a Necromorph flew at my face I'd all but scream, panic, and promptly die. In the end I gave up and just watched the guys either side of me … but not before a few people had spotted my ineptitude and hidden smirks behind their hands. Not my finest hour and an occupational hazard when your enthusiasm for gaming routinely outstrips your ability!
How has the games industry changed since you started out?
To be honest, I'm not sure I've been holding this gig long enough to gauge any changes. What's clear in even my short time, however, is that the industry is investing more time in understanding the communities around their titles. Today, there's (quite rightly) a burgeoning commitment to listening to fanbase critique and using it to meaningfully inform development.
As for the writing industry specifically? As a newbie, I guess my key observation is that it's a frighteningly competitive industry to crack and the best thing about video game journalism is also the worst: literally anyone can do it. With just a little bit of know-how and a comparatively meagre outlay, anyone can set up a site and just start writing. This means it's easier than ever to get your words in print and touch an audience … but it also means it's harder than ever to stand out and get your work noticed by the people with cheque books.
Is this for the better or worse?
Ask me again in a few years' time!
Who has had the most influence on your career so far?
I've been staring at this question for hours now and I still don't have an answer. It's like stuffing a duvet into a can of beans: IMPOSSIBLE.
Like many a games writer with boobs, my instinct first turns to metaphorical heavyweights like Leigh Alexander, Ellie Gibson and Mitu Khandaker, all of whom have raised the profile of talented female writers tenfold in this industry. Crucial to my individual development, however, were the people who took an interest in my work early on, and it's been that individual support and friendship that's been most crucial to (and for) me. While I haven't been formally mentored, I have been lucky enough to have people willing to share PR contact details, or drop a freelance opportunity my way. There are too many to list them all but seriously; if it weren't for them I wouldn't be here.
What is the best bit of advice about games journalism anyone's ever given you?
Don't give up. Ever. Give up on yourself and you're inviting others to do so, too.
Do you have any advice to others starting out/wanting to get into industry as a journalist?
Write for yourself. I know: it's a hideous cliché, but it's utterly true. I set up GGS because I was increasingly frustrated by sarcastic and misogynistic gaming communities, often losing my voice in a sea of snark. My site was born from the unwavering belief that you don't have to have a 100,000G Gamerscore to have a valid opinion about video games. I firmly believe that it's this approach – and a complete lack of any alternate agenda – that has gotten me thus far.
I know this might seem obvious, but you have to be an excellent writer, too. Industry knowledge simply isn't enough. Yeah, you might know a title inside out and outside in, but if you can't communicate that competently – by an enviable grasp of vocabulary, grammar, pacing, personality etc. - no-one will ever know. And even that might not be enough. The key is to not only be good, but also be efficient; meet deadlines, be courteous, be professional, know your audience. Make sure every single word you write – paid or otherwise – is as sharp and fresh as it possibly can be.
Finally? While breaking this industry is about a thousand times harder than you'll ever think it is, the rewards are about a thousand times better, too. So if you'll permit me to refer back to the advice I had – DON'T GIVE UP. If you genuinely think you have what it takes, keep on trying. Find a high-quality indie site – even if it doesn't pay just yet – and hone your skills there. I don't know a single salaried journo who didn't initially start off writing pro-bono, so use this time as an opportunity to build up your portfolio and experience. You'll be grateful for it later.
What is your dream job?
What I do now – albeit it for a little more money and perhaps a few high-profile columns here and there – would suit me just fine!
How do you find working with PRs and how has it changed since you started out?
I don't mind admitting that for me, it was initially harder to impress the PR agencies than it was to catch the eye of dev/pub CMs. I came into this business without a contact list, so I quite literally started from scratch and I didn't realise the importance of the PR agencies until surprisingly late into the game. Things are different today, obviously – but that didn't come about without a great deal of perseverance.
As a rule though, working with PR isn't too troublesome, providing you offer them the same courtesy and professionalism as others in the industry. Be friendly and polite and make sure that you turn up for events (without gatecrashing) and review the codes you're sent.
Pro tip: try not to stand too close to gatherings of PR reps. Their youth and beauty is damaging to fragile and ageing egos. Seriously.
A few quick questions. What's your favourite…?
Platform: Current gen? Xbox 360, probably, though I'm essentially impartial. If I had to pick my all-time favourite platform, however, it's probably the PS2. The PS2′s back-catalogue completely defines me as both a gamer and a writer.
Game: Silent Hill 2. The first few chords of the title music still gives me shivers. There's so much beauty in the grotesqueness of the characters, so much pathos in James, so much fear the first time we saw the now overly-exploited Pyramid Head. It's been a decade since it's release and we're still discovering new things about the mythos.
Honourable mention goes to Portal 2, which is undoubtedly the best game of the last five years. There's not a single second of that game that isn't chocful of awesome.
Developer: It's a straight tie between Valve and Bioware. Outstanding developers, outstanding games.
Games writer: Too many to pick just one! I think I have a penchant for writers who inject a little of themselves into their work; it always makes for a more personable, enjoyable read.
Gaming site (not your own): If plumping for one of the big boys, I'd say Joystiq. My favourite indie sites is probably The Border House.
Games magazine (not your own) GamesTM and EDGE.
Non-gaming magazine/website: Hmm. I don't think I visit any non-gaming websites. (That's probably not healthy, right?)
Who's your games industry hero: WHAT A HORRIBLE QUESTION. Um, again, there's loads, but it's probably Grasshopper Manufacture's producer and sound director, Akira Yamaoka. And GLaDOS.
–
To be featured on a Q&A please contact us.